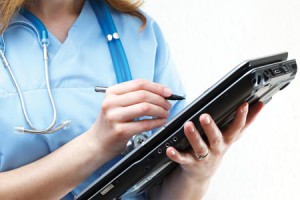 Practical Nursing Program
The Practical Nursing certificate is a three-semester program that combines college coursework with nursing theory and practical experience in a variety of clinical settings. Students are introduced to the concepts of health promotion and health maintenance. Students explore the theory of basic nursing care, pharmacology, disease process and specialty nursing. Students practice nursing skills in a simulated lab designed to model the clinical setting. Newly learned skills are then applied in clinical settings such as long-term care facilities and hospitals. Student practical nurses are exposed to a variety of departments within each setting to provide a better understanding of the care clients receive, and to expose students to potential career opportunities. These areas may include: Physical Therapy, Occupational Therapy, Respiratory Therapy, Maternity, Pediatrics, Behavioral Health, and Medical-Surgical Nursing.
The Practical Nursing Program admits students three times per year. Class times and days vary according to individual class schedules.
For more information, please contact our Admissions Office at:
312-214-2000
Entrance exam schedule can be found HERE